A properly maintained reel will help you enjoy your fishing experiences till next service. Our trained technicians are here to help. A full service includes fully disassembling reels, clean, replace worn parts, apply proper lubrication, and then reassemble for full operation. Greases and oils do dry out in all conditions. If you are an avid angler, you understand what a set of smooth and quiet gears mean.
Brands we normally service and have parts in stock are: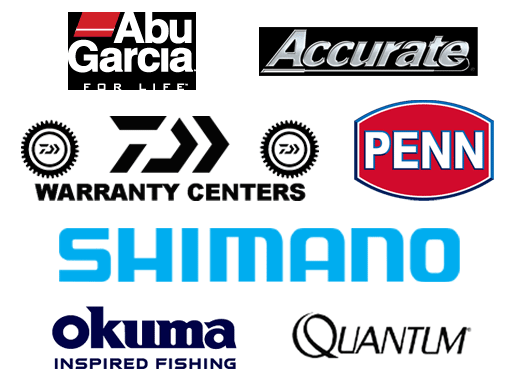 The above brands have a better turnaround time for parts delivery.
We also service Lew's, Avet, 13 Fishing, Tsunami, Mitchell and Shakespeare, but the turnaround time would be longer due to limited parts in stock.
If you would like a professional reel service, please download the repair form and completely fill it out. One form per reel.
The turnaround time is based on season. March to July and October to December are considered busy seasons. The average turnaround time would be 2 – 4 weeks after we receive your reels.
The cost of reel services/repairs is listed on repair form. If you request a repair, we will only work on the stated problem(s). Cost of repair starts at $15.00, plus the cost of replacement parts
For any reason, after we provide you an estimate and you decide not to proceed with the repair, you will be charged $10.00 for a diagnosis fee. All shipping fees are an additional fee to the reel services.
In the Tampa Bay area, we work with Tampa Fishing Outfitters, Tarpon Fishing Outfitters and St Pete Fishing Outfitters. You can drop off your reels in one of these stores, and they will be picked up weekly.
If you have any questions, please send us an email to
[email protected]
We will get back to you as soon as possible.